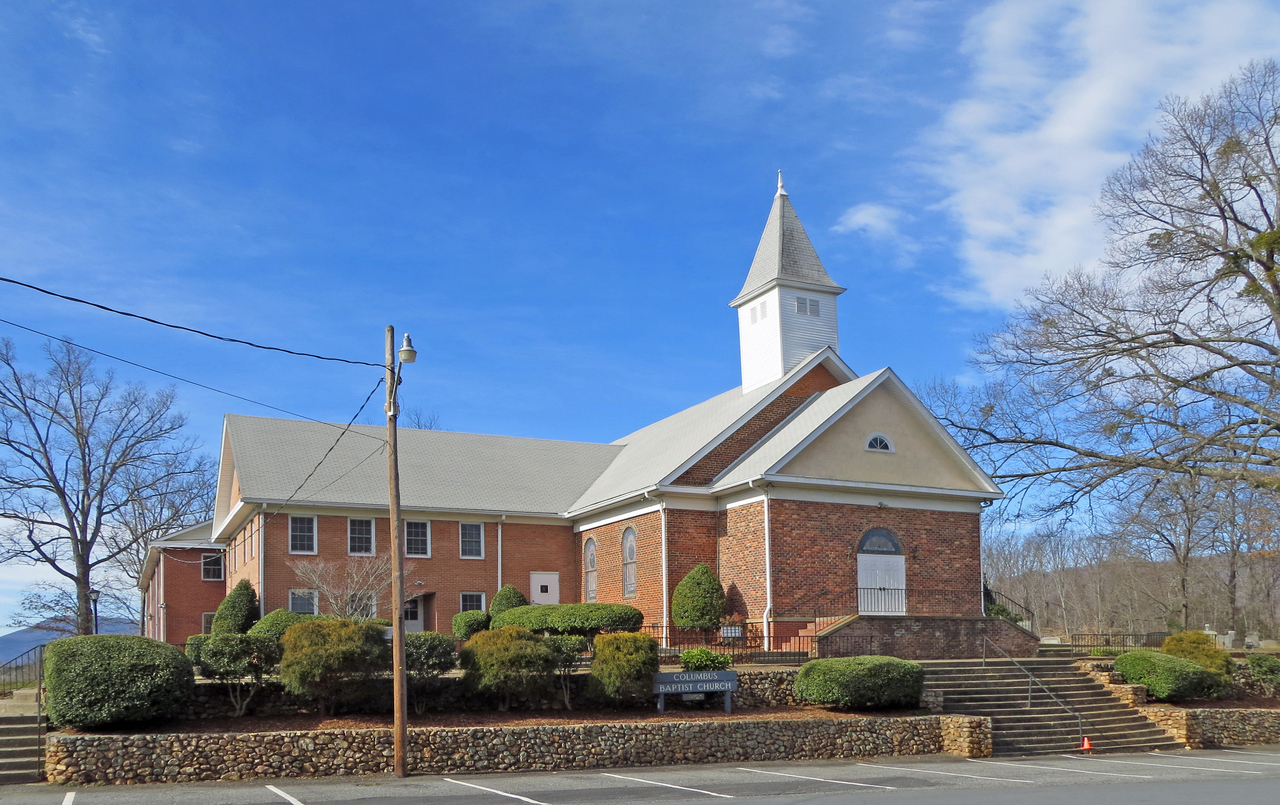 Columbus Baptist Church
Location

45 Houston Road
Columbus, NC 28722
(Mail) PO Box 485
Columbus, NC 28722
(828) 894-8588
Website:
www.columbusbc.org
Pastor
Rev. Timothy Fortune
(828) 448-0032
Email: pastortimothycbc@gmail.com
Youth Pastor
Rev. Steve Martinez
(909) 322-4853
Church Secretary
Mrs. Tina Melton
Email:
columbusbaptistc@gmail.com

Good Neighbor Store

(Hours: Wed – Sat 10:00 am to 2:00 pm)

Good Neighbor Store partners with Unbroken Circle to provide clothing, etc to Native

Americans; also donates clothing, etc. to those in need; donates Bibles to PC Jail inmates
Ministries

Prison Ministry
: Jeremy Wood is involved in "Kairos". A group of men go into the
prison for a 4-day retreat and follow ups.
Women's Prison Ministry:
A group of women go each month to the Rutherford
Women's Prison for Bible study and prayer.
Polk County Jail Ministry
The Hope Chest: Donna Wood provides clothing and supplies for foster families in PC
Vacation Bible School and Back to School Program
Feed A Kid Summer Program
Veterans Day Luncheon
Harvest Festival
Polk County Middle School Christmas Gifts and Food Boxes
Widows Ministry
We participate in the Columbus Christmas Parade
We have small groups that meet in homes for Bible study and fellowship
We participate in SBC sponsored missions projects: Annie Armstrong, NC Baptist
Mother's Day offering, Baptist Children's Homes, NC State Missions, Lottie Moon
We have an active youth ministry and the Hoopz basketball program began in 2021
We participate in local and foreign missions:
Hygiene kits (distributed by PBA at Mountain State Fair Ministry), Operation Christmas Child Shoeboxes, Thermal Belt Outreach Ministries Angel Tree, (also canned food-Team Kid Outreach), NC Baptist Children's Home, NC Baptist Hospital, NC State Missions, Lottie Moon, Annie Armstrong Missions. We support the Gideons and other Christian groups in the community.
Services
Sunday
Morning Worship- 10 AM
Sunday School- 11 AM
Children & Youth- 11 AM
Wednesday
Service- 7 PM